About Live Traffic Cameras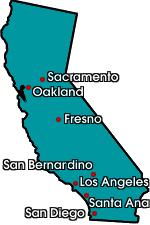 Caltrans has over a thousand cameras monitoring roadway sections across California. The primary method for traffic camera information is still images, but some of the cameras offer live streaming video.  Caltrans currently uses two methods to distribute video. First is Windows Media Video which requires Windows Media Player.  Second is Flash video which requires Adobe Flash Player or QuickTime for Macintosh users.
There are a couple different ways to locate traffic video on this website.  The direct links below will open a video stream using Windows Media Player.  Some video streams are available only using the red camera icons on the traffic map.  The camera icons will pop-up a still camera image.  A "go to live camera" link may appear at the top of the image and will open with Windows Media Player or a play button may appear at the bottom of the image and will stream using Flash or Quicktime.
If you want to learn more about Caltrans traffic cameras or are having issues viewing check out the FAQ page.
Our live traffic videos require a free media player.
Statewide Alerts and Other Information
Live Traffic Cameras Links